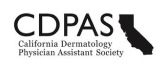 Priya Patel, PA-C
PHYSICIAN ASSISTANT
Priya Patel is a board certified Physician Assistant and has over 10 years of experience in Dermatology. She graduated from the University of Georgia with a Bachelor's degree in biology in 2008 and obtained her Masters in Medical Science Degree from Nova Southeastern University's Physician Assistant Program in 2010. She is an active Diplomate Fellow member of the Society of Dermatology Physician Assistants. While she has practiced general medical dermatology and cosmetic dermatology in Santa Monica, having struggled with breakouts herself, she has always had a passion for eradicating acne. When she's not working, Priya enjoys traveling, wine tasting, and watching Georgia Football.
How It Started
In today's world, we have access to so much information at our fingertips. While this can be great in many aspects, when it comes to skin care, it can be very confusing and overwhelming. We are all different, have different skin types, and our skin usually changes with time, so what works for one person may not work for another person and what worked for you two years ago may not work for you now. This is where I come in! I have always had a passion for dermatology, more specifically for acne and skin care. I've worked in dermatology for ten years, and I find treating acne to be most rewarding because of the positive impact it can have on one's mental health. I think everyone should love the skin they're in, and I will do whatever it takes to help accomplish that goal!
Daisy Ramirez was born and raised in the San Fernando Valley. With a passion for helping others, she decided to start her journey in the medical field as a medical assistant. Her favorite part about working in the medical field is creating personal relationships with patients. Daisy is an avid animal lover, and when she's not working, she loves to spend time with her family and friends and enjoys baking.
Rachel Tenzer was born and raised in Los Angeles, which sparked her interest in the beauty industry at a young age. She loves helping her clients reach their skincare goals and look and feel their best. In her spare time, she enjoys going to the beach, hiking, going to concerts, trying new restaurants, and spending time with her family and friends.
Courtney Phillips, MD
MEDICAL DIRECTOR
Dr. Courtney Phillips is a Board Certified Dermatologist. She received her medical degree and completed her residency at the University of Southern California's Keck School of Medicine. Dr. Phillips also has a passion for acne, but practices general, pediatric, and cosmetic dermatology at Manhattan Dermatology and El Segundo Dermatology.
During her free time, she enjoys spending time with her family and staying active with running and boxing. We are so proud to have her as a part of our team!
The Pimple Place ® Solutions
Our mission is to provide excellent cosmetic and medical care to patients experiencing acne. We believe in applying medically proven data and personalizing acne solutions rather than employing a "one size fits all" approach.
Professional Treatment Services
Expect to leave with skin that's fresh, hydrated, and totally happy. Our personalized treatments target stubborn acne and give your skin a fresh start.
Advanced Chemical Peels
Let's deep dive into healing your skin. Our variety of chemical peels even skin tone, clear pore congestion, and exfoliate for a radiant complexion.
Cosmetic Treatments
Whether you're planning to turn back time or want natural-looking volume, our cosmetic treatments have you covered.
How We Work
Our simple process is designed to address your skin's unique condition. In three easy steps, we will create a solution that provides everything your skin needs to be clean, healthy, glowing, smooth, and every other amazing thing.
Consultation
Your provider will speak with you regarding your specific skin concerns and discuss goals for a roadway to clear skin.
Diagnosis
Your skin will be thoroughly examined and you will be prescribed medications if necessary based on your unique skin type.
Treatment
Personalized treatments and skin care products will be recommended in order for you to achieve best results.
Ready to Go Gaga Over Acne-Free Skin?
Our expert providers are ready to help you get there. Book your appointment today for dermatology in Santa Monica.
Book an Appointment